HMMA Q4 2021 Newsletter
November 24, 2021
The term "hollow metal work" refers to many of those components of building construction that are made of cold formed sheet metal. With the exception of single family residences, there are relatively few buildings in which hollow metal work is not used. By far the most widely used of these products are doors and frames, and for that reason the Hollow Metal Manufacturers Association continues our involvement in developing and guiding the standards that will make for the safest and finest finished product. Two elements of success are the Painting and Maintenance of the Hollow Metal Doors and Frames and this newsletter provides easy to follow but affective guidance.
HMMA-840 TN01-01 Painting Hollow Metal Products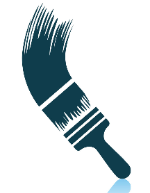 Hollow metal doors, frames, and related products are fabricated from hot-rolled, cold-rolled, zinc-coated, or stainless steel. Stainless is typically not painted and therefore not referred to in this tech note. Hot and Cold-rolled steel are supplied either dry or oiled and require treatment prior to painting. Zinc coated steel is either galvannealed or galvanized. Galvannealed steel is manufactured suitable for immediate painting without further treatment other than normal cleaning. Galvanized steel requires treatment prior to painting
Refer to HMMA-840 TN01-07 to review the ones page Tech Note.
Maintenance of Installed Hollow Metal Products

The Hollow Metal Manufacturers Association (HMMA) recommends that all opening be inspected at least annually. Your local Authority Having Jurisdiction (AHJ) may have additional requirements.
HMMA recommends the following 8 inspections:
1. Hardware Operation
a. Hardware fasteners: Tighten, repair or replace as required.
b. Full open and close door, checking for free swing without interference or binding.
i. Hinges/Pivots: Adjust or replace as required.
ii. Latching Hardware: check for proper operation and latch engagement.
iii. Control Hardware: Check for proper operation. Adjust, repair or replace as required.