Common Misconceptions About Steel Doors and Frames
August 4, 2022
Common Misconceptions About Steel Doors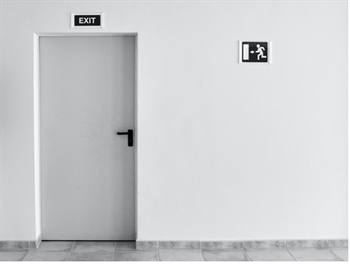 While steel doors and frames are known for their durability, like many other building products, they're not immune to misconceptions coming about. As a longstanding not for profit organization and leading voice in the steel door and frame industry, HMMA is here to share the truth about the products our member companies specialize in creating.

Misconception 1:

Steel Doors Can't Look Good
We're going to start with a misconception that's focused on looks. There's no question that steel has a particular appearance. The metal aesthetic can sometimes give off a more industrial feel, leading many people to assume that steel doors and frames are locked into a rigid style.
The truth is that experienced steel door and frame manufacturers, like the member companies of HMMA often work with architects and builders to create doors that truly complement their design. For example, an experienced manufacturer could incorporate windows and even a wood grain for an unforgettable entryway.
Other options include recessed panels offering a historical colonial feel great for restoration or heritage buildings. Not to mention options that are available for stainless steel or decorative metals like bronze or brass where corrosion protection or ornamental aesthetics is desired.
Misconception 2:

Steel Isn't Sustainable
Out of all the building materials, it's common for steel to be seen as an unsustainable product. However, that could not be further from the truth. Steel is one of the most sustainable materials out there thanks to its inherent durability and longevity. Plus, steel is one of the most recycled materials in the world and is often used to create new products.
For an added sense of sustainability, most steel products can be sourced within 400 miles of the job site. If your project is looking to be "green", steel doors and frames will help you reach that goal. Steel has one of the highest recycling rates of any building material, often with a recycled content exceeding 50%, and is 100 percent recyclable in many cases.
Misconception 3:

Steel Manufacturers Don't Offer a High Level of Service
While there is a misconception about steel manufacturers not offering a high level of service, the member companies of HMMA are known for their attention to detail and dedication to meeting their client's needs. Part of what makes HMMA members special is that they have access to a wealth of collective knowledge about steel doors and frames. HMMA members also act as a collaborative group to establish guidelines and standards to help ensure steel doors, frames, and windows meet quality and performance standards.
Members companies of HMMA are invested in their client's success. One of the ways they practice that commitment is by giving people a deeper understanding of steel doors and frames. This education can help your project realize its vision, make installation more efficient, and more. When you buy a product from an HMMA member company, you'll have peace of mind knowing that there's a partner ready to support you.
Misconception 4: The

Only

Advantage of Steel Doors is the Fire Rating
There's no question that steel doors and frames are well-known for how they stand up against fires. However, there are plenty of other protections that come with this material. For example, hollow metal doors and framing systems have been used in a variety of projects for the benefits they provide towards forced entry and bullet resistance.
Steel doors and frames are also acoustic resistant which is another reason why high traffic buildings like airports, offices, government buildings, and more trust steel doors to provide an added layer of safety and security.
Discover the Benefits of Steels Doors and Frames with HMMA
Now that some of the most common misconceptions about steel doors and frames have been put to rest, why not learn more about the member companies that help HMMA move the steel door and frame industry forward. By learning more about their expertise and service, steel will be on the short list of materials for your next project.