An Inside Look at HMMA's Specs
December 13, 2022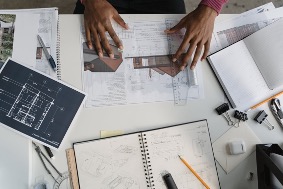 Across all types of residential and commercial building projects, specifications are the guiding force behind the materials that are chosen. Since companies, organization, and governing bodies create specs for hollow metal doors and frames, you might not have the time to learn about every spec.
At Hollow Metal Manufacturer's Association (HMMA), we have a variety of hollow metal door and frame specs that set your project up for success and lasting performance. Join us as we break down what makes HMMA specs unique and some of the top specs to use on your future projects.
What Makes HMMA Specs Unique?
A large part of what makes HMMA specs unique is that they're made by an independent organization. With hollow metal door and frames specs are created by companies that are tailored to their own product. The process oftentimes means that these specs are narrower in their application, which can make it more challenging to incorporate them into a project.
With HMMA, there's a group of like-minded manufacturers that are dedicated to giving architects specs that are impartial and versatile. There's also the added value of guidelines that are built into each spec that illustrates the proper construction of hollow metal doors and frames. It's one of the ways an HMMA spec keeps working for you even after the steel door and frame are installed on the project.
At HMMA, our organization also works behind the scenes to give architects and specifiers confidence in choosing our specs. Many of our specs are submitted to national organizations such as ANSI, CDI, and IBC to be used in building codes.
A Breakdown of HMMA's Most Popular Specs
As an organization that is dedicated to helping the hollow metal door and frame industry continue to move forward, HMMA has a variety of specs including:
Forced Entry and Bullet Resistance Spec: This spec gives architects a lot of freedom when it comes to the design of hollow metal products. Over the years, NAAM and HMMA developed advanced hollow metal assemblies that will offer your project a spec that stands up to the high bar set for security in certain building projects like schools or hospitals.
Specifications Guide for Hollow Metal Doors and Frames: This general set of specification was prepared following the recommendation set by CSI. It's broken up into three parts to help ensure that the steel doors and frames are used to their fullest potential. These specs can even be easily adjusted to fit the unique needs of your project.
Sound Control Hollow Metal Doors and Frames: There are some projects like a band room of a school that require the door and frame to offer sound resistance. This spec provides a guide for sound resistant and secure entryways that adds confidence in your project.
Hollow Metal Door and Frame Specs Backed by the Reliability of Steel
Every spec that HMMA creates is backed by the reliability of steel as a building material. When compared to other options such as wood, steel is not only known for its durability, but also the long-term value it offers your project. It's also important to note that specs for wood or aluminum doors and frames often don't mention that added cost of maintenance as time goes on. Steel is far less likely to become damaged from wear and tear while lasting decades with minimal maintenance.
Learn More About Hollow Metal Doors and Frames with HMMA
If you're looking for reliable hollow metal door and frame specs, HMMA is here to help. As an organization that wants to help move the industry forward, it's our goal to help your project live up to your design by providing reliable specs. Take a look at our technical publications to learn more about how steel doors and frames can benefit your project.