The Difference Between Fiberglass and Steel Doors
April 21, 2023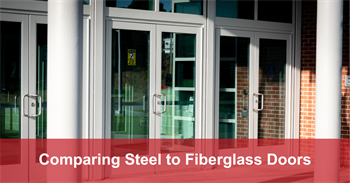 For a variety of commercial building projects, there's a key decision that needs to be made about what type of material for doors and entryways. At first glance, materials such as fiberglass and steel look similar when they're installed. Once you get up-close and underneath the surface, the difference between them becomes more apparent.
Let's take a closer look at how these commercial door materials stack up against each other and when you might want to choose one over the other.
The Durability of Steel vs Fiberglass Doors
When you're comparing fiberglass to steel doors, it's important to talk about the durability of both materials. Fiberglass doors don't warp or get damaged by humidity like wood does, but it's also lightweight. While this means it's often less strenuous to install, these doors can be cracked, dented, and even broken down with enough physical force. For buildings where forced entry is a concern such as schools and hospitals, fiberglass is not the best choice for outer doors.
Steel doors on the other hand are stronger than fiberglass and won't crack. The durability of steel is also known to stand up to harsh weather conditions like heavy rains, hail, and strong winds. In terms of forced entry resistance, steel is the preferred choice over fiberglass. Many steel doors go through a variety of forced entry tests that include putting stress on the lock and hinge assembly.
Another benefit aside from the strength and durability of steel doors is that they can last for 30 years or longer when properly installed. Plus, steel doors are commonly less expensive than fiberglass, giving your project a higher return on investment.
Breaking Down the Ratings of Both Materials
To really get into the key difference between fiberglass and steel doors, it's essential to understand some key material ratings which include:
Fire Rating: Steel is the only door material that offers a three-hour fire rating. They're also generally available at a lower price point than other fire-rated doors as well. Fiberglass doors have an average of a 90-minute fire rating and often require the application of an intumescent seal. This coating adds to the cost of the door and needs to be applied by an expert.
Blast Resistance: Steel can pass the ASTM F2247, ASTM F2927, and UFC 4-010-01 blast resistance standards that measure the amount of damage a door takes in a blast event. Fiberglass doors are often not rated for blast resistance due to the lightweight nature of the frame.
Steel Doors are More Adaptable for a Variety of Projects
One of the reasons why steel doors are often a better choice in commercial building projects is because of how adaptable the material is. One of the prime examples of this is sound transmission applications. In the case of a door to a band room in a school or a recording studio in an office building, you want the entryway to reduce sound transmission. Steel doors have the highest STC (Sound Transmission Coefficient) of any other door material. Fiberglass is rarely used for this application.
Another key advantage that steel doors have over fiberglass in many applications is the material's anti-microbial properties. Steel can be easily cleaned and disinfected, especially when the door is designed with a custom seamless edge. It's one of the main reasons why steel doors are specified for buildings with sanitation needs like hospitals or food handling applications. While fiberglass is more sanitary than wood, the material is porous enough to trap some bacteria making the cleaning process more involved.
HMMA Helps Your Project Find the Best Door Solution
If you have an upcoming commercial building project and want to learn more about steel doors, Hollow Metal Manufacturers Association can help. From specifications to ongoing education courses, we're dedicated to helping set up your projects for success. Learn more about the value steel doors can offer commercial buildings today.