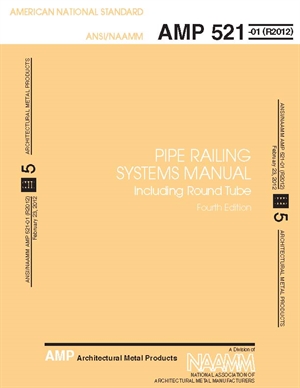 Pipe Railing Systems Manual
2012
AMP 521-01 (R2012)
AMP
Printed copies: $27.00 each
Printed copies: $20.25 each for members
Downloads: $0 each
Sign in and save. Members, sign in to purchase at member rates.
A guide for design professionals, the construction industry and the suppliers of railings featuring up-to-date data on the materials appropriate for use in modern pipe railings, graphic representations of some of the more commonly used construction details, recommendations for their proper structural design under current regulations, advice concerning their installation and anchorage, and guidelines for specifying them. (ANSI/NAAMM AMP 521-01)\
Table 2, the fifth column area for 1 ½ inch diameter Schedule 5 pipe, should be 0.375 in2 instead of the .0375 in2 shown.