Comparing Steel vs Wood Doors and Frames
July 8, 2022
The Key Differences Between Steel and Wood Doors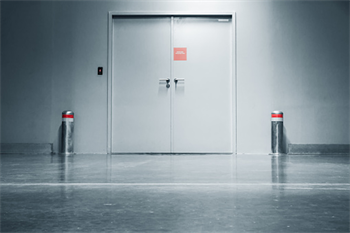 Is Steel Really Safer than Wood?
For decades, HMMA and its member companies have been trusted sources of information for hollow metal doors and frames. A large part of our goal as an organization is to be your trusted source of information on steel and hollow metal building products. At HMMA, we want to make it easier to find the best products and how to spec them for your project. Join us, as we take a look at steel doors and frames compared to wood.
It's important for any building project to place safety as a main priority. We're not just talking about safety on the job site or meeting the bare minimum, but for the end-user once the project is complete too. If you're debating between using steel or wood doors, knowing these safety ratings can help you decide on which material to use.
Fire Rating:

Since fire ratings are one of the most frequently specified elements of a building project, it's good to know how steel and wood stack up against each other. Steel is the only door material that offers a three-hour fire rating. On the other hand, wood doors average a 90-minute fire rating, and the use of intumescent seals can cause the door to expand when it gets hot.

Blast Resistance:

Steel doors have been proven to pass the ASTM F2247, ASTM F2927, and UFC 4-010-10 blast resistance standards

some projects require

. In comparison, wood doors cannot be manufactured to be blast resistant and can't pass the common standards set by the industry.

Sanitation Performance:

Stainless steel doors, especially ones built with a seamless edge, are known to resist germs and bacteria. Plus, steel can be easily washed and sanitized making

them

a great option for any building project with a need for a sanitary environment. Wood is naturally porous and is more susceptible to bacteria. It's also a material that is much harder to sanitize, which is why many wood doors use antimicrobial resins to help with sanitation.
A Look at Maintenance and Repair for Both Materials
Steel doors and frames are known for their durability. Not only do they resist dents and cracks, but if that happens, the affected area can be re-welded at a relatively low cost. Both facts make steel a very economical choice for a variety of building projects while providing value for years after they're installed.
In comparison, wood is much more susceptible to cracking, warping, and insect damage. It's also important to note that repairing damage to a wooden door or frame is often expensive. The repair process can even have a higher cost than replacing the wooden door and frame outright.
Energy Efficiency for Steel and Wood Doors
For a variety of building projects, energy efficiency is often one of the top priorities since it can save money for the owner in the long run. One of the most common ways to improve the energy efficiency of a building is to help prevent conditioned or heated air from escaping the structure through gaps. As a result, doors and frames are one of the first areas that are looked at.
On average, steel doors and frames can be manufactured to have much tighter seals on the doorway which leads to a higher level of energy efficiency. Many steel doors are also constructed to have a thermal break in the interior. This break helps contain any changes in temperature because the air cannot transfer outside as quickly.
While wood doors and frames are known for their aesthetics, they are not as energy efficient as other materials including steel. On its own, wood is not known for being a great insulating material and absorbs heat more readily. Without the added cost of working in insulating materials into the wooden door and frame, wood doors can often cost more than steel as well.
Connect with HMMA for More Info on Hollow Metal Doors and Frames
HMMA is a collection of member companies that are dedicated to providing reliable information on hollow metal doors and frames. You can take a closer look at the specifications we've developed and other important resources like our "Glossary of Terms for Hollow Metal Doors and Frames" to learn more about the industry.